CAD-CAM Restorations in Oakville
Hi-tech dentistry today, just like other industries, relies more and more on computers to improve accuracy and efficiency in what we do.

CAD-CAM stands for computer-assisted design and computer-assisted manufacture, or what we like to call computer-assisted dentistry. With this technology, we are able to more accurately tailor the veneers, crowns and bridges we make to improve your smile. Our computer program displays a 3-D custom image of your teeth and gums, allowing Dr Rosenblat and his lab to design the crown or veneer (what we call "restorations") precisely.



The advantages of using the CAD-CAM fabrication technique include:
We can produce extremely accurate restorations
No more messy impressions (mold)
The restorations are tooth-coloured and natural looking, and they're bonded in place
The Procedure



First, we prepare the tooth. In the past, at this point we took impressions with plaster to create a model of your teeth, and a dental laboratory would use those models to create your restoration. But with CAD-CAM, we use a special optical camera to record the exact dimensions of your prepared tooth, and enter these dimensions into the CAD-CAM computer.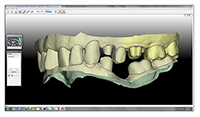 We send these designs to the laboratory where they're crafted by a milling machine using the impressions that we email to them.
Finally, when you revisit our office, we try in the new restoration. After we check your bite and make any necessary adjustments, you'll have a new CAD-CAM restoration.